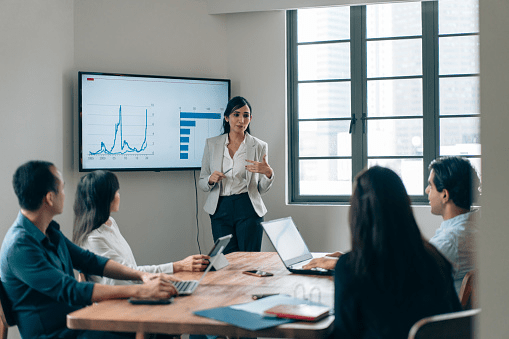 Setting up a business is one thing, but sustaining it is another story. You need to have a hang of effective management to keep it together and get things done by your employees.
A good management style sets the entire tone of the workplace. The need for strong leadership grows as your business expands.
But what qualities determine that someone is a great leader, and why is it so necessary?
Let's see what being a great leader means.
What are the Qualities of a Proficient Leader?
Leadership is a trainable skill, and you can get there with practice.
You can also employ someone to manage your staff if you don't have time to upskill.
These are the leadership characteristics to look for in a candidate before taking them on board.
1.   Effective Communication
It is imperative to acknowledge that listening is just as vital as talking.
A person with leadership qualities knows how to communicate with their team members, clients, business partners, and stakeholders.
In addition to persuading with their speaking skills, they listen intently to clients' pain points, employees' problems, higher authorities' concerns and present their solutions.
2.   Self-confidence
A great leader is always confident in their own abilities. They never get insecure about their team members achieving professional success because they believe in co-existing.
3.   Accountability
Being confident in one's skillset should not prevent one from taking responsibility for actions. Anyone can make mistakes regardless of their job title. Not knowing how to own up to mistakes is worse than committing them.
Leaders know when to reflect, hold themselves accountable, and look for ways to fix things.
4.   Strong Influence
A fierce influence inspires others to look up to you and replicate your habits. A good leader emanates positive energy and has a strong work ethic to have the most impact on their team.
5.   Empathy
A goal-oriented leader knows how to get work done from employees. However, they also understand that employees are regular people with emotional needs.
Hence, a good leader initiates healthy conversations to understand and help them. They don't lose their cool during conflict and handle everything with compassion.
How Can A Leader Affect The Performance of The Team?
A leader's impact on their team is enormous. Here are a few ways they directly influence their team members:
The manager's team members understand the seriousness of the goal when the manager is genuinely passionate about it.
A leader will inspire their employees to practice punctuality by coming and going on time. Consequently, they encourage workers to submit work on time and respect deadlines.
A great leader can improve an underachiever's performance by giving them a healthy environment to grow and express themselves.
A leader refraining from openly criticising people will improve the office environment and promote empathy among members.
A leader who practises and promotes a culture of two-way feedback will inspire everyone to be the best they can be.
Takeaway
Don't fret if you don't find yourself capable enough to handle a team.
So, if you are applying for a job, which requires attributes like resilience, confidence, and assertiveness, check out Beaumont Training for their value-packed personal development courses.