Thank you for your interest in our Resilience E-Learning Online Course. In order to access this course, every user will need a valid licence. With a multi-user licence not only do you get a discount per licence, you can manage who has access to each licence. You can start adding users to your account as soon as you have made your purchase.
How can I purchase a multi-user licence?
You will need to purchase a Resilience E Learning Course Multi User licence from our online shop. On the multi-user licence product page, you will need to enter a group name. After you purchase the licence you will be able to invite individuals to your group so please ensure your group name is something recognisable to you or your organisation. Once you have decided on a group name, select how many licences (or seats) are required and then add the product to your shopping cart.
What happens if I "Take up a seat"?
When you tick the "Take up a seat" checkbox on the multi user licence product page, as the name suggests, you will be added to the group you are about to create and you will take up one of the available seats. If left unticked you will not take up a seat, but you will also be unable to access the Resilience E Learning Course yourself. You will still be able to manage your group and invite individuals to your group, but you will have no access to the course (unless you have a valid single user licence or belong to another group).
How do I access my user account and new product licences?
As soon as you complete the checkout process and purchase a multi-user licence your licences (or seats) will be added to your user account. For this guide we are going to show you what happens if you leave the "Take up a seat" checkbox unticked on the product page.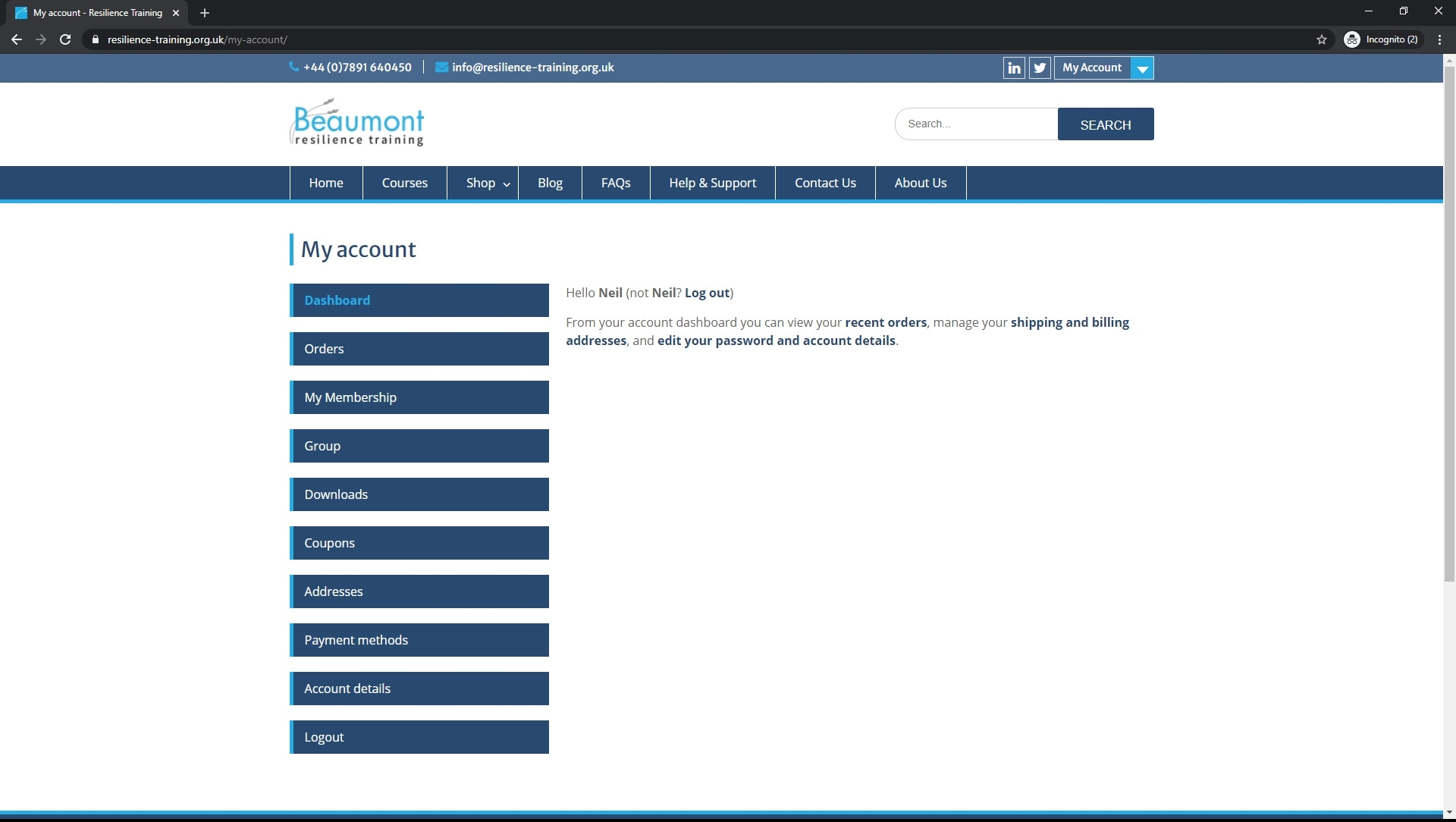 If this is the first time you have purchased a product from us, you will also receive an email advising we have created a new user account for you. This email will contain your password which will enable you to login and access your user account page.
From the user account dashboard, you can use the navigation menu to view your orders, manage your account details, access your memberships and configure your groups (used for multi-licence products).
If we navigate to the My Membership page you can see there is no content available for us to view.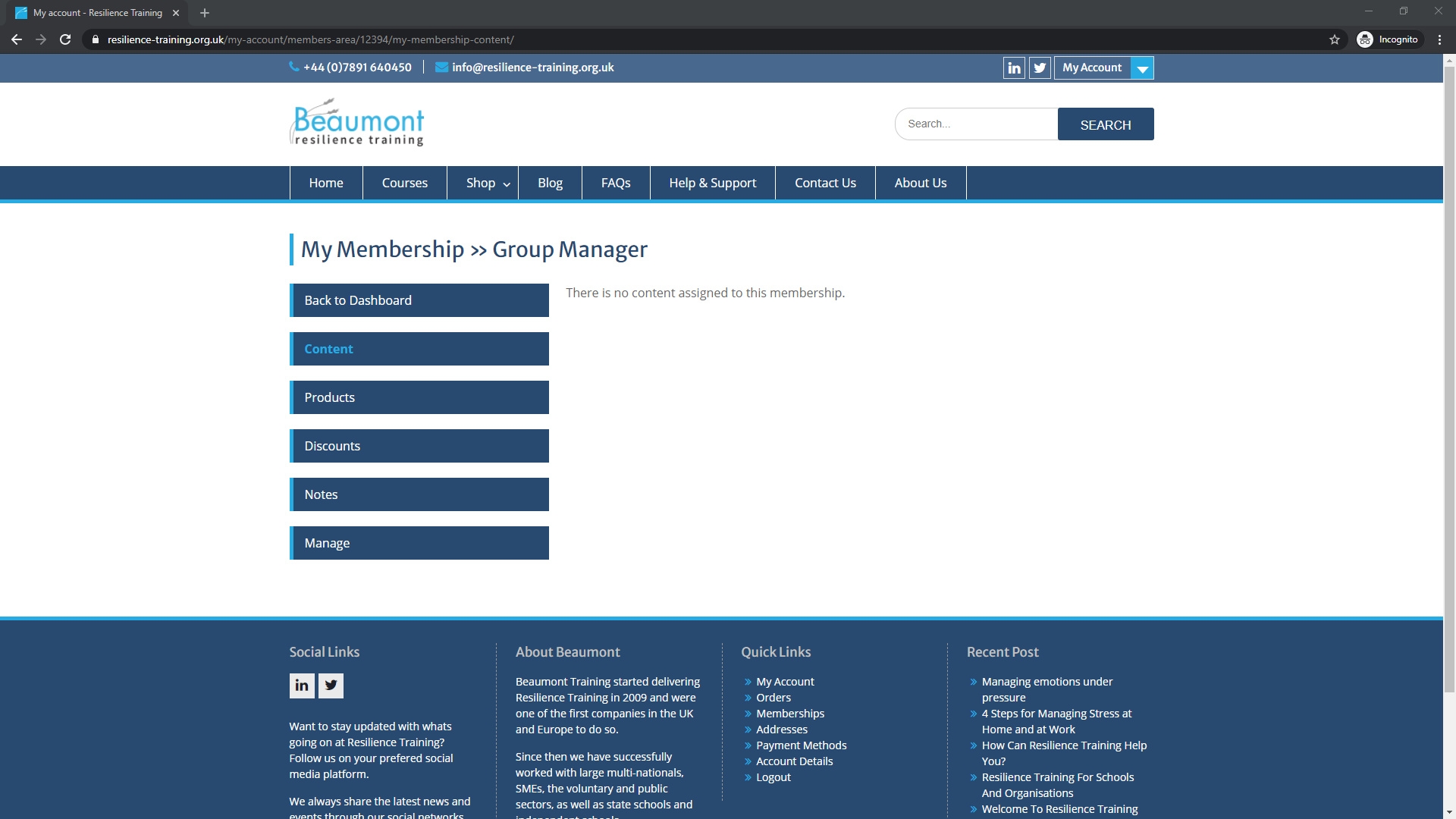 This is because we chose not to take a seat when purchasing the license. If we had taken a seat, then all the Resilience E Learning course modules would be displayed here.
How do I invite someone to use one of my multi-user licences to access the Resilience E Learning course?
If we go back to our user dashboard and then navigate to the Groups page this is where we can start inviting people to use our course licences. If no one has previously been invited to the group (as in our case) then the Add Member page will appear (you can also get to this page by clicking on the Add Member link from the navigation menu).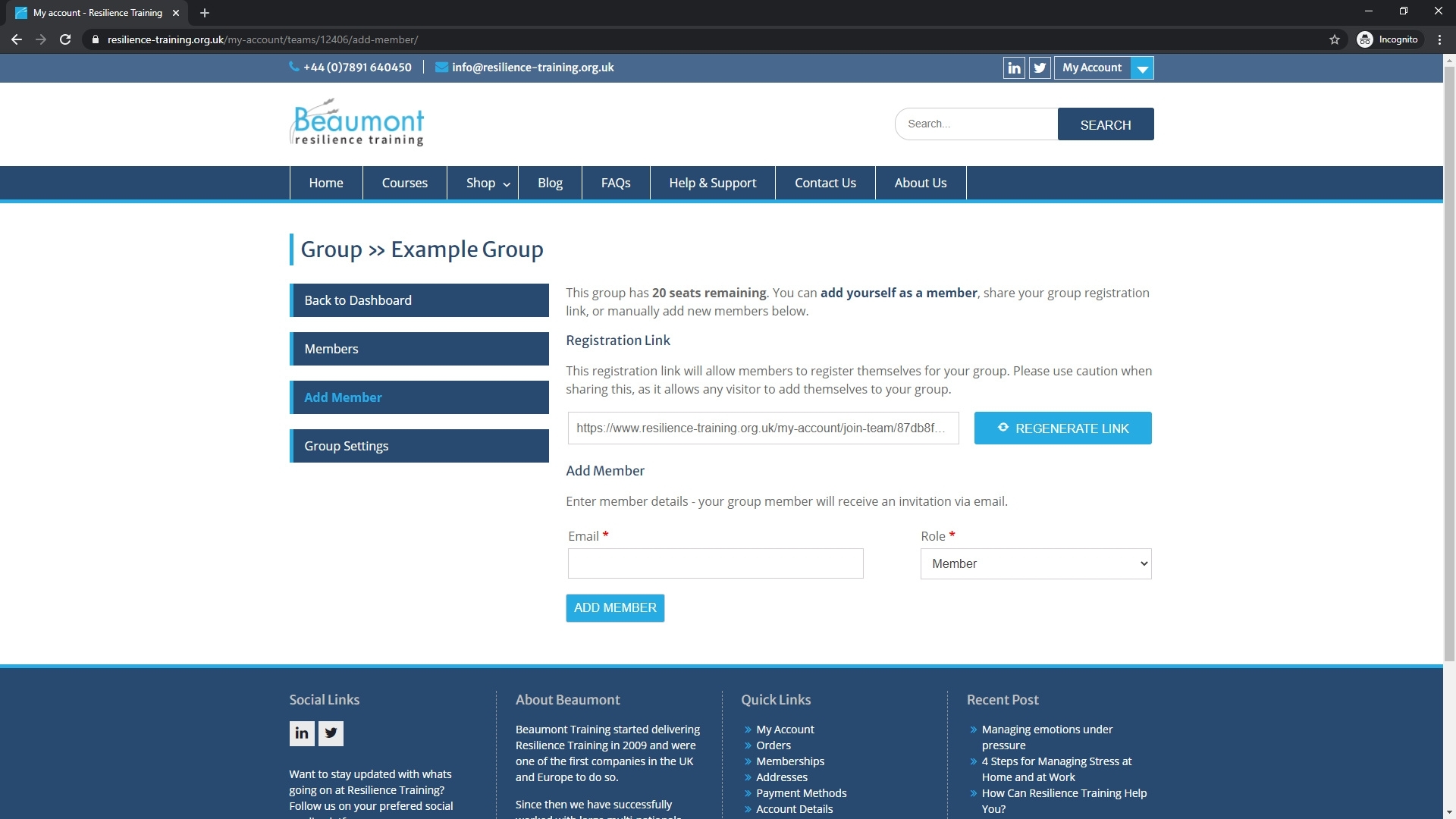 There are two ways to add someone to your group.
1. Enter the email address for the person you would like to add in the email address field and ensure the role is set to Member. Once entered click on the Add Member button. An invitation to join your group will be sent via email with a unique registration link contained in the invitation email.
2. Share the unique registration link via your preferred contact method (email, What's App, Facebook Messenger etc). Avoid sharing this link in public places as anyone could then sign up and use your licences, blocking genuine people from registering.
Each method produces a unique registration link which your invitees can click. When they click on the link, they will be sent to a special login page on our website where they get the chance to create a new account (or sign in to an existing account). The licence will be added to their account and give them access to the Resilience E Learning Course.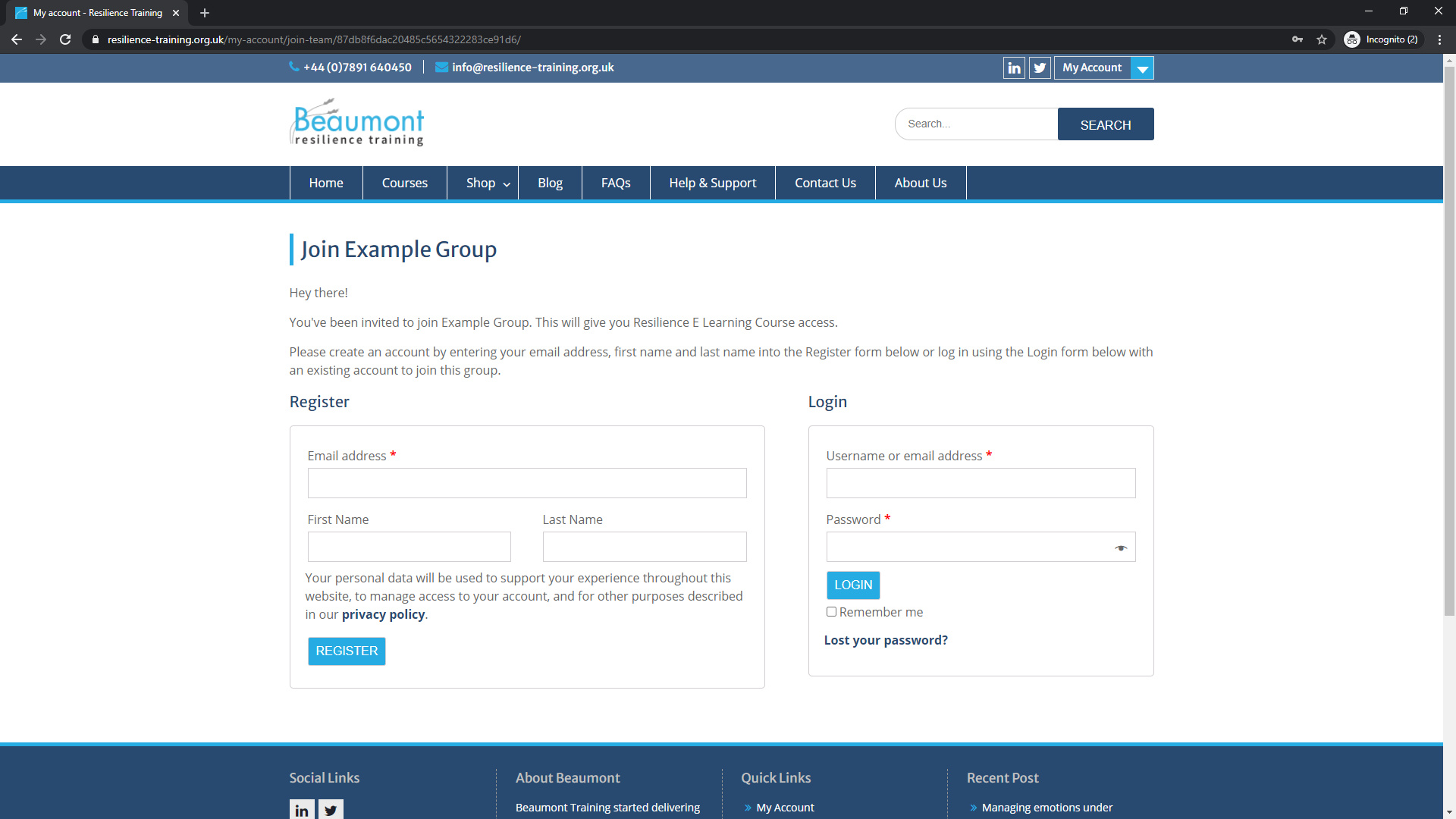 The only information required for anyone you invite to sign up and get started with our Resilience E Learning course is an email address, first name, and last name. This allows you to grant your invitee access to our Resilience E Learning Course without them having to purchase a licence. This makes the multi-user licence perfect for parents/teachers/CEOs etc.
When all the information has been entered, the invitee will be automatically logged into their user account and will be able to see the Resilience E Learning Course content, the first piece of content shown is the Quickstart Guide which is a short page explaining how to enroll on the course. Once they are enrolled they will have access to all the course content.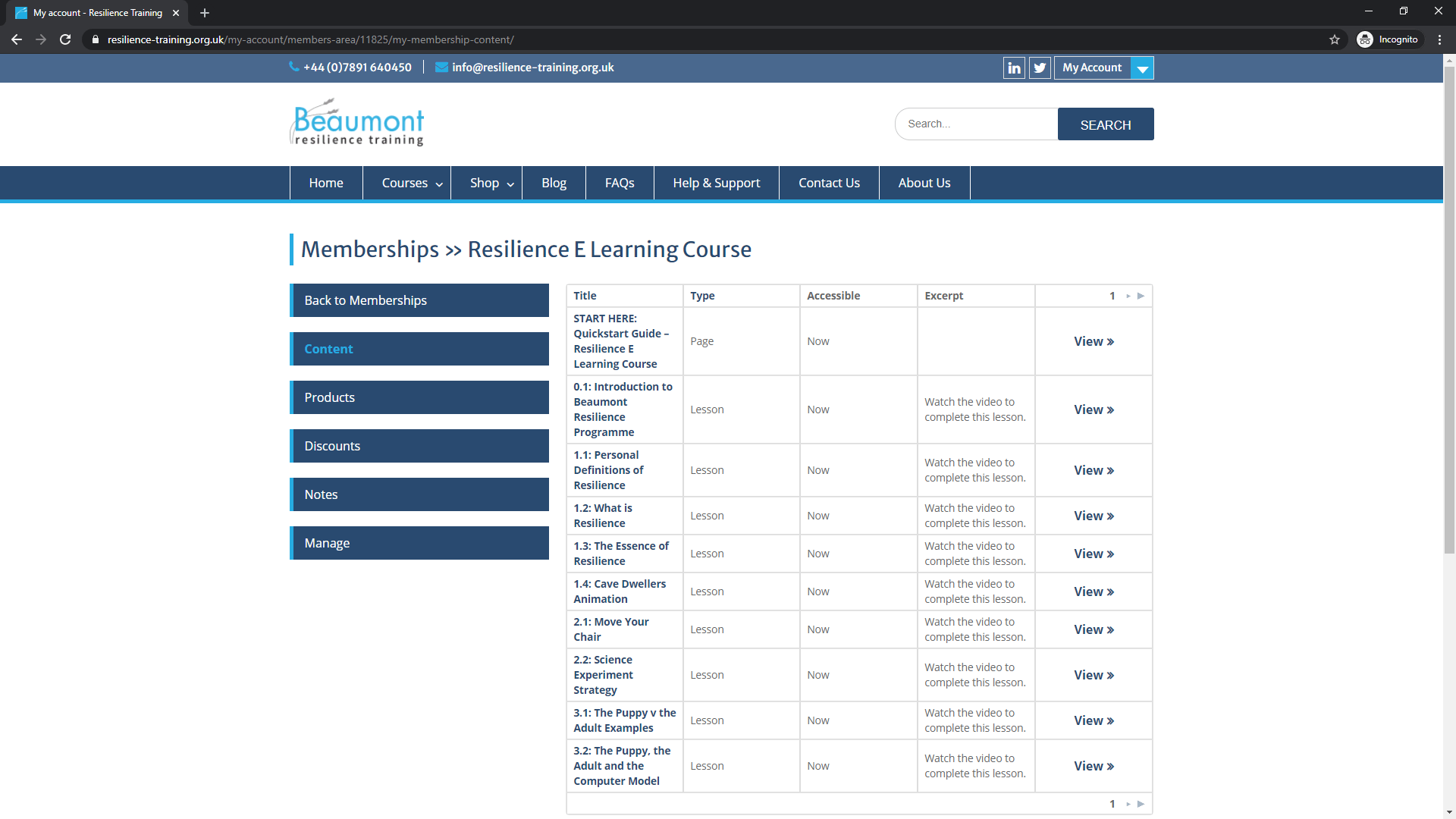 You can manage your invitees by clicking on the Members navigation link in the Groups section of your user account area.
Tip: Need more than 50 licenses? Contact us for volume licencing deals.